Digital Transgender Archive
French or Belgian prisoners of war, some in drag, posing on stage during a crowded scene of "La dame aux camélias"; at Sennelager prisoner of war camp in Germany. Photographic postcard, 191-.
Théâtre de Senne-civil "La dame aux Camélias" 4e. acte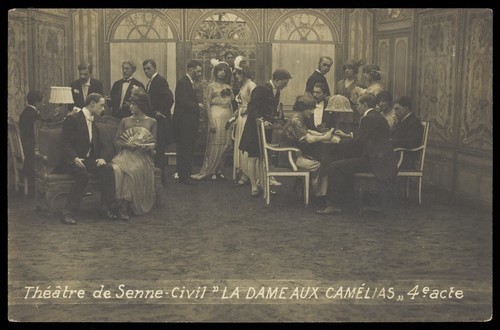 Several people are seated at tables and characters in evening wear are standing in conversation. A white lamp shade is situated to the left of the scene. This looks like an ambitious production of a play based on the 1848 novel by Alexandre Dumas fils

Part of James Gardiner Collection: photographs of military, naval, and prisoner-of-war camp drag.
Identifier

0k225b34d

Collection

Institution

Date Issued

Jan. 1, 1918


Genre

Topic(s)

Resource Type

Still Image


Analog Format

1 photograph : photoprint ;


Rights

Copyright undetermined
For more information on copyright, please read our policies