Digital Transgender Archive
Roy and Gus, two music-hall actors, one in drag, converse across a bench. Photographic postcard by Greenfield Bros, 192-.
To Teddy, all the best from yours sincerely Roy & Gus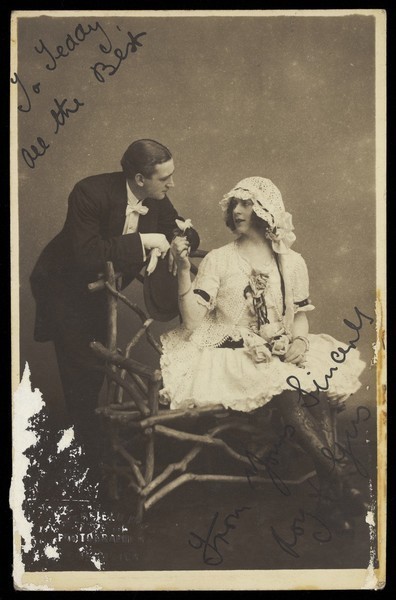 The man in drag is offering a smartly dressed man a flower, while sitting on the small bench, in front of a plain background. 'Roy & Gus', unidentified performers photographed by Greenfield Bros., Smethwick. Both men are wearing very high quality costumes. Almost certainly professional music-hall performers, early 1920s

Part of James Gardiner Collection: photographs of military, naval, and prisoner-of-war camp drag.
Identifier

12579s505

Collection

Institution

Date Issued

1920 to 1929


Genre

Topic(s)

Resource Type

Still Image


Analog Format

1 photograph : photoprint ;


Rights

Contact host institution for more information
For more information on copyright, please read our policies