Digital Transgender Archive
Two actors, one in drag, pose on garden furniture. Photographic postcard, 1918.
Yours truly. H Burgess. 1918. Best wishes yours etc. ... France.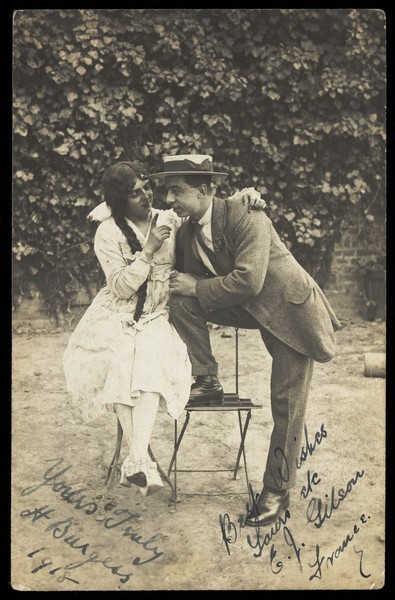 The man in drag is dressed all in white and the other man in smart attire, leaning in with one foot on a garden chair. Performers with an unidentified concert party performing behind the lines in France in 1918. Identified as E.J. Gilson and H. Burgess.

Part of James Gardiner Collection: photographs of military, naval, and prisoner-of-war camp drag.
Identifier

1544bp36k

Collection

Institution

Date Issued

Jan. 1, 1918


Genre

Topic(s)

Resource Type

Still Image


Analog Format

1 photograph : photoprint ;


Rights

Contact host institution for more information
For more information on copyright, please read our policies