Digital Transgender Archive
Two members of a military concert party pose on stage: one is in drag with a large hat and pigtails. Photographic postcard, 1915-1916.
"The Issues." Pte. A. Broom. Pte. H. P. Wright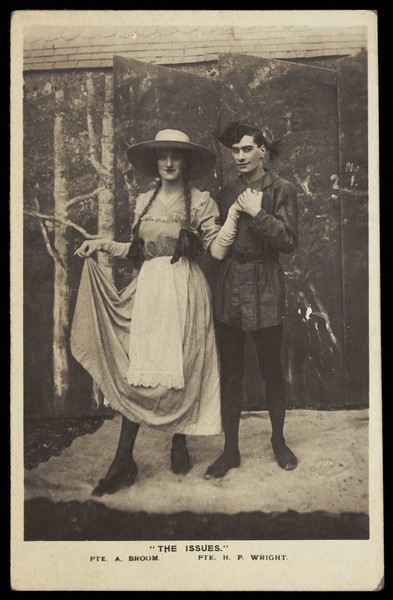 The man in drag makes a curtsey whilst holding hands with the other man, as they stand on fabric, in front of folding scenery. Two privates performing with 'The Issues', a concert party attached to an unidentified unit with the British Expeditionary Force, ca. 1915-1916. The figure on the left, one Private Broom, has the kind of exaggeratedly feminine shape that only tight corseting could achieve.He is very well coiffed and made up, and may, in private life, have been an experienced, even semi-professional performer

Part of James Gardiner Collection: photographs of military, naval, and prisoner-of-war camp drag.
Identifier

5712m671b

Collection

Institution

Date Issued

1915? to 1916?


Genre

Topic(s)

Resource Type

Still Image


Analog Format

1 photograph : photoprint ;


Rights

Contact host institution for more information
For more information on copyright, please read our policies