Digital Transgender Archive
Four soldiers posing, three in drag, with an injured soldier seated in the centre. Photographic postcard, 191-.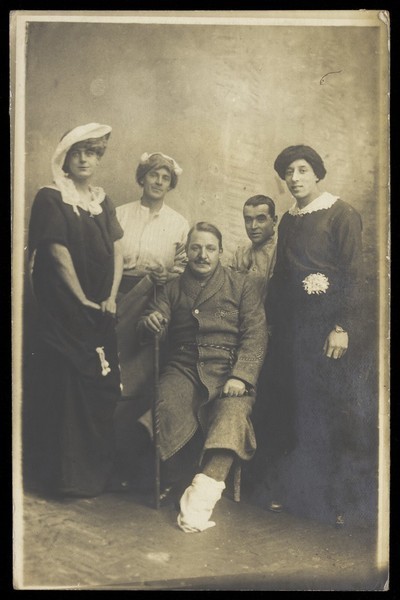 An unidentified costume party group standing around a central seated man in a dressing gown with a bandaged foot. The hastily improvised drag worn by three of the subjects would indicate a less well resourced and organized concert party, possibly quite early in World War I. Probably French or Belgian, in view of Brussels provenance of print catalogued

Part of James Gardiner Collection: photographs of military, naval, and prisoner-of-war camp drag.
Identifier

6m311p63g

Collection

Institution

Date Issued

1910 to 1919?


Genre

Topic(s)

Resource Type

Still Image


Analog Format

1 photograph : photoprint ;


Rights

Contact host institution for more information
For more information on copyright, please read our policies