Digital Transgender Archive
British prisoners of war in smart attire performing a show at a prisoner of war camp in Cottbus. Photographic postcard by P. Tharan, 1916-1917.
English theatre Cottbus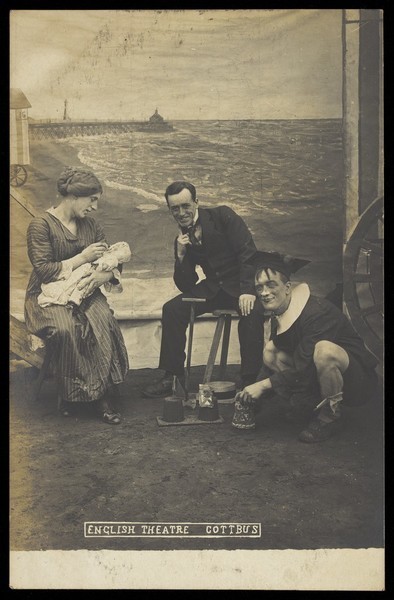 One actor is in drag, holding a baby, as two other men face the camera. The beach tableau shows a family relaxing on the sands with mother, father, boy wearing an Eton collar and a mortar-board; 'Mummy' even holding a baby. The backdrop is a beautifully painted English seaside scene, complete with pier and bathing machine

Part of James Gardiner Collection: photographs of military, naval, and prisoner-of-war camp drag.
Identifier

df65v8067

Collection

Institution

Date Issued

1916? to 1917?


Genre

Topic(s)

Resource Type

Still Image


Analog Format

1 photograph : photoprint ;


Rights

Contact host institution for more information
For more information on copyright, please read our policies