Digital Transgender Archive
Leopoldo Fregoli, in drag, poses in several inset portraits. Process print, 1903.
Fregoli nella Notte d'amore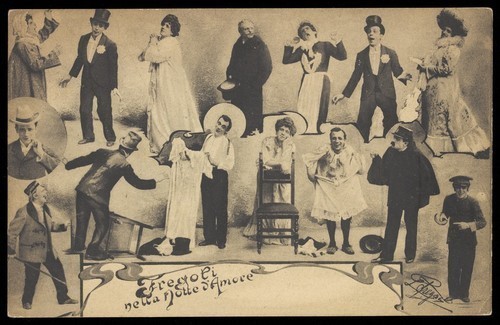 Leopoldo Fregoli wears different costumes within many inset portraits, including one dressed as a policeman with a moustache and cape. Leopoldo Fregoli (Italian, 1867-1936) was the greatest 'protean' quick-change artist ever seen on the stage. This card shows him in just a few of his male and female disguises. He would play dozens of different characters in the course of his act, with total transformations being achieved in seconds. An international sensation, he appeared at the Palace Theatre London under the aegis of Alfred Moul in 1897. His name has been attached to 'Fregoli delusion' or 'Fregoli syndrome', a rare disorder whereby sufferers have a delusional paranoid belief that they are being persecuted by someone able to adopt different disguises (James Gardiner)

Part of James Gardiner Collection: photograph album labelled 'Drag'.
Identifier

gm80hv565

Collection

Institution

Date Issued

Jan. 1, 1903


Genre

Topic(s)

Resource Type

Still Image


Analog Format

1 print : process print ;


Rights

Contact host institution for more information
For more information on copyright, please read our policies