Digital Transgender Archive
Henri Defreyn in drag as a geisha. Process print after G. Dupont, 19--.
M. Defreyn (Sarah Yacco). Phot. G. Dupont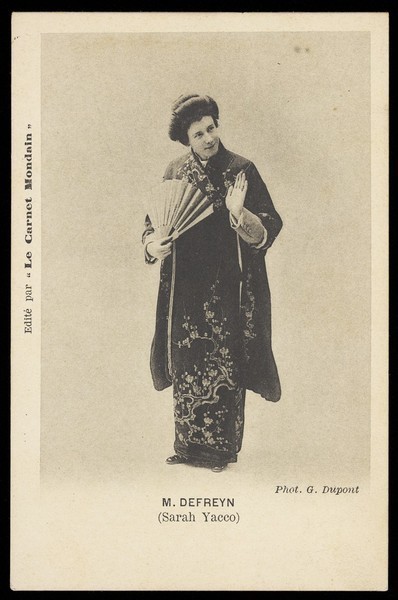 Henri Defreyn performing a parody of Sada Yacco, geisha and actress. The extremely popular Japanese entertainer Sada Yacco had toured the world 1900-1903 and caused a sensation wherever she went. She seems to have been as much a favourite with the drag queens of the 1900s as Marlene Dietrich and Judy Garland were later in the century.

Part of James Gardiner Collection: photograph album labelled 'Drag'.
Identifier

jm214p31z

Collection

Institution

Date Issued

1900 to 1999?


Genre

Topic(s)

Resource Type

Still Image


Analog Format

1 print : process print ;


Rights

Copyright undetermined
For more information on copyright, please read our policies