Digital Transgender Archive
A man in drag (Charlie) sits face-on, wearing detailed costume, with a window painted on the backdrop. Photographic postcard, 1919.
To Lily best love, your loving brother Charlie. Egypt June 1st 1919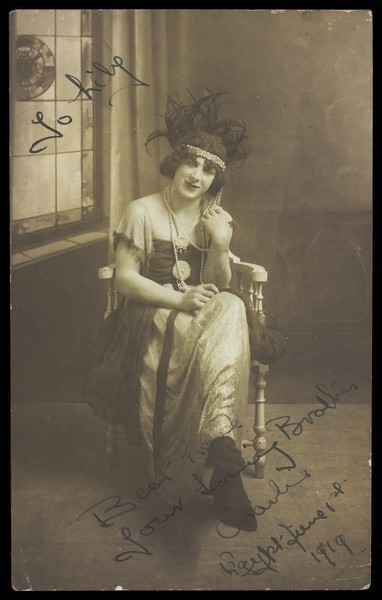 The man smiles, with his head tilted slightly and legs crossed, gazing out towards the viewer. Photograph of 'Charlie' sent back to his sister from Egypt in 1919, where one may assume he was part of the British force (Middle Eastern Force) at that time attempting to overthrow the Egyptian revolution against British rule. It might seem amazing that Charlie would have had time to organize this elaborate and delightful get-up and have himself photographed. The dress is made from silvered brocade and chiffon, and the detailing of the outfit is superb from the 'sautoir' of (presumably) fake pearls to the beaded 'headache band' topped with black aigrette

Part of James Gardiner Collection: photographs of military, naval, and prisoner-of-war camp drag.
Identifier

mw22v5695

Collection

Institution

Date Issued

Jan. 1, 1919


Genre

Topic(s)

Resource Type

Still Image


Analog Format

1 photograph : photoprint ;


Rights

Copyright undetermined
For more information on copyright, please read our policies