Digital Transgender Archive
Oscar Sabo dressed as a woman with Josefine Dora dressed as a man, as flamenco dancers. Photographic postcard by L. Willinger, 192-.
Haiti. Tatara-tatara-tatarata, Sie war aus La Plata. Oscar Sabo. Josefine Dora. Phot. Willinger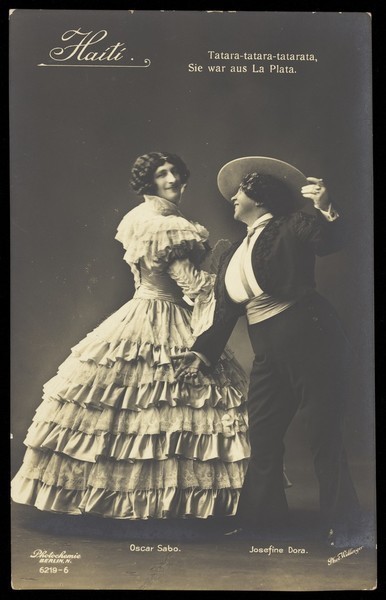 Oscar Sabo (1881-1969) and Josefine Dora (1867-1944). Gender role reversal on a German–made photo postcard depicting two celebrated Austrian actors performing (unusually for them) in drag. Unidentified production, 1920s

Part of James Gardiner Collection: photograph album labelled 'Drag'.
Identifier

nv935308d

Collection

Institution

Date Issued

1920 to circa 1930


Genre

Topic(s)

Resource Type

Still Image


Analog Format

1 photograph : photoprint ;


Rights

Copyright undetermined
For more information on copyright, please read our policies