Digital Transgender Archive
McMahon and King, two actors made up as blackface minstrels, with King in drag. Photographic postcard, 191-.
She ain't a bit like the other girls, this little girl o'mine. McMahon & King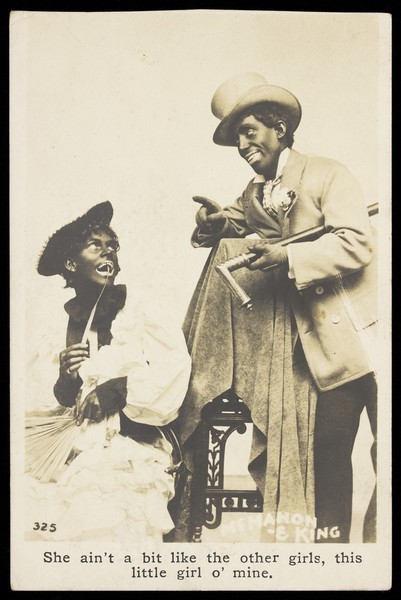 King looks over his shoulder, whilst McMahon in a top hat holds out his finger, pointing. Blackface minstrels (white actors with faces blackened to represent negroes) were a popular form of entertainment in vaudeville shows in the US from the middle of the nineteenth century. By the end of that century such "minstrel shows" were a staple of entertainment all over Europe, particularly in English seaside towns, where 'Nigger minstrels' entertained on pier and beach the length and breadth of the country. However, black-face combined with drag was a rarity. The caption says "She ain't a bit like the other girls…"

Part of James Gardiner Collection: photograph album labelled 'Drag'.
Identifier

sq87bt87k

Collection

Institution

Date Issued

1910 to 1919?


Genre

Topic(s)

Resource Type

Still Image


Analog Format

1 photograph : photoprint ;


Rights

Contact host institution for more information
For more information on copyright, please read our policies