Digital Transgender Archive
A convalescent soldier (Lance-Corporal R.C. Thomas) poses in drag, wearing a silk dress and sitting with a mourning veil. Photographic postcard, 1916.
Summerdown Kate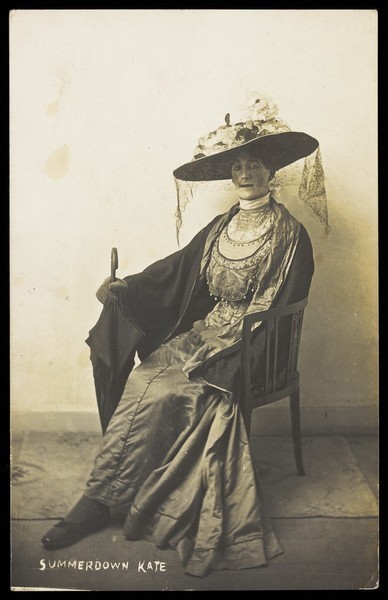 "The man known as Summerdown Kate was Lance-Corporal R. C. Thomas who was at the Summerdown Convalescent Camp and a member of the camp's entertainment group (the Knuts Kamp Komedy Kompany). He was well known for his female impersonation act." (information kindly supplied by Lloyd Brunt, Joint Secretary, East Dean & Friston Local History Group). He sits in mourning attire in front of a plain background. The costume is elaborate Edwardian dowager's dress and hat, the high style of 1905. HIs presence at Summerdown Camp Military Convalescent Hospital, Eastbourne is confirmed by the message on the verso written in 1916 ("Saw lady? on other side at wounded soldier's camp. He does not seem ill to me…")

Part of James Gardiner Collection: photographs of military, naval, and prisoner-of-war camp drag.
Identifier

vh53wv994

Collection

Institution

Date Issued

Jan. 1, 1916


Genre

Topic(s)

Resource Type

Still Image


Analog Format

1 photograph : photoprint ;


Rights

Contact host institution for more information
For more information on copyright, please read our policies