Digital Transgender Archive
Search Tips & Terms
The DTA aims to be accessible to researchers of all backgrounds and levels of experience. Not all search engines function in the same ways and it may not be immediately clear how to find what you are looking for among trans-related historical materials spanning hundreds of years and multiple cultures. Below, we offer some general tips for using the DTA's search function, followed by trans-specific research recommendations and suggested search terms.
If you are new to the DTA and you are not sure what you're interested in, check out our Starter's Guide to learn more about important moments and people in trans history.
General Search Tips
Test out various search terms
Try searching multiple different forms of a term. For example, if you want to know more about trans youth, you might also search for kids, children, adolescents, and teens. Once you have found an object you are interested in, you can click on the Creator(s), Genre, Topic(s), etc. in its record to find similar objects.
Search for an exact match
Wrap a word or phrase in quotation marks to search only for exact matches. For example, searching "two spirit" in quotation marks will locate materials containing those exact words in that order, whereas searching two spirit without quotation marks will also locate materials containing the words two and spirit separately.

Figure 1. Screencapture of the DTA homepage and searchbar.
Browse all items (Figure 1.1)
To see all items on the DTA website without any filters or search words applied, leave the search bar blank and click Search.
Search only a specific field (Figure 1.2)
By default, the DTA search bar searches all text used within the object and its record. To search only an object's Title, Description, Creator, Publisher, Subject, or Identifier, click the words All text to the left of the search bar and select the field you want to search within.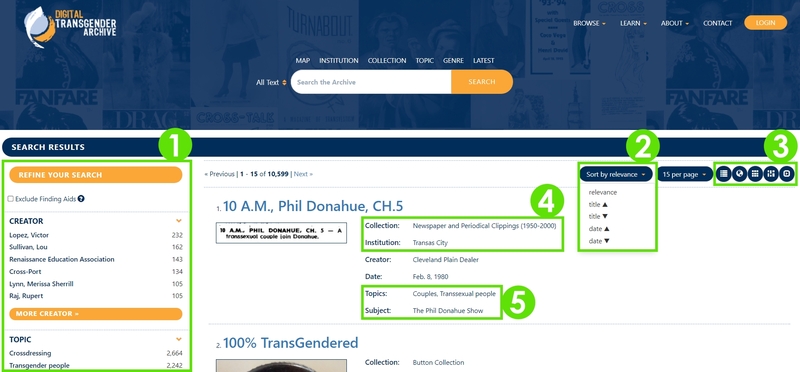 Figure 2. Screencapture of a search results page on the DTA.
Filter search results (Figure 2.1)
Filter by Creator, Topic, Subject, Date, Genre, Location, Language, Collection, or Institution by selecting options to the left of the initial search results.
Sort search results (Figure 2.2)
Search results can be sorted by Relevance (how frequently your search terms appear within an object and its metadata record), Title (alphabetically), or Date (newest or oldest). The DTA automatically searches by Relevance, but you can change this by clicking the Sort by button at the top right of the search.
Change search results view (Figure 2.3)
Change the way items appear on the search results page by clicking one of the icons to the top right of the search results. The default view is List, but you can also view results on a Map, as a Gallery, as Masonry (blocks of images), or as a Slideshow.).
Institution vs. Collection (Figure 2.4)
Institutions are organizations that have contributed items to the DTA. Collections are items (typically from multiple institutions) grouped together by theme.
Topic vs. Subject (Figure 2.5)
Topics are keywords describing the content of an object (e.g., Couples, Transsexual people), whereas subjects are proper nouns used within or related to the object (e.g., The Phil Donahue Show).
---
Trans-Related Search Tips & Terms
Names and Pronoun Variations
Individuals' names and pronouns often vary across DTA materials, whether because they changed their names or adopted stage names or nicknames, or simply because of inconsistencies in the historical record. For example, Ariadne Kane often goes by Ari Kane, and Lou Sullivan has published as Louis Sullivan and Louis G. Sullivan. Drag queens and kings (see related terms below) often use different names and pronouns while performing. If you are aware that an individual used a nickname or pseudonym in certain contexts, or if you identify other name variations in materials, we recommend searching those names to locate additional records.
Though deadnames may be included in some materials on this site (and many do not consider their given names to be "dead"), please remember that an individual should always be addressed by their chosen name, regardless of how they may have been known in the past.
Trans-Related Search Terminology
Terminology for gender, sex, and sexuality is culturally specific and always evolving, which can make it difficult to know what search terms to use. Below, we suggest variations of common terms as well as relevant historical terms to help you find what you're looking for.
Please be aware that historical terms carry vastly different meanings across different periods and locations. Certain terms may be considered outdated or offensive, and best practice is always to observe an individual's self-identification. The suggestions below are not intended to equate different identities or practices, but merely to suggest additional areas of research.
To learn more about specific terms and their meanings, check out our Glossary. It may also be useful to visit the website for the Homosaurus, the LGBTQ linked data vocabulary we use when describing objects.
Drag related terms may include ballroom, crossdresser, crossdressing, disguise, disguised, drag ball, drag king, drag pageant, drag queen, drag show, dressed as, female clothing, female impersonation, female impersonator, female-male, feminine clothing, male-female, male impersonation, male clothing, male impersonator, man-woman, masculine clothing, masquerade, masquerading, men's clothing, woman-man, and women's clothing
Gender Dysphoria related terms may include body dysmorphia, dysphoria, gender identity disorder, and GID
Intersex related terms may include differences in sex development, DSD, hermaphrodite, hermaphroditism, intersexuality, variations in sex development, and VSD
Non-binary related terms may include agender, androgyne, bigender, genderfluid, gender minority, gender-nonconforming, gender non-conforming, genderqueer, GNC, nonbinary, and transgenderqueer
Third Gender related terms may include eunuch, female husband, third sex, two-spirit, two spirit, two-spirited, and two spirited
Transgender related terms may include trans, trans*, transgendered, transgenderism, transgenderist, trans-identified, transsexual, transsexualism, transvestite, transvestism, TS, and TV
Transition related terms may include bottom surgery, estrogen, gender affirmation surgery, gender alignment surgery, gender confirmation surgery, gender reassignment surgery, GRS, hormones, HRT, sex change, sex reassignment surgery, SRS, testosterone, top surgery, and transitioning
Trans Men related terms may include butch, F2M, female to male, FTM, transman, trans man, transmasc, and transmasculine
Trans Women related terms may include fem, femme, M2F, male to female, MTF, transfem, transfeminine, transfemme, transwoman, and trans woman
Other historical terms of interest include: eonism, eonist, invert, molly, sexual intermediary, uranian, and urning.