Digital Transgender Archive
Two soldiers, one in drag, sit close to each other on stage, in front of a detailed backdrop of trees at Beverlo Camp, Belgium. Process print, 190-.
Camp de Beverloo. Je ne te quitterai jamais! Edit. Mahieu.-Bourg-Léopold.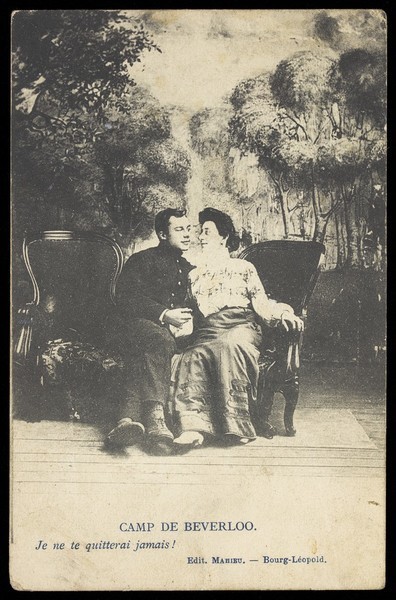 The man in drag is facing the other man as they sit on elaborate furniture.Shows theatrical entertainment at Beverlo(o) Camp, the largest military training installation in Belgium, at Bourg-Léopold, 75 km north east of Antwerp

Part of James Gardiner Collection: photographs of military, naval, and prisoner-of-war camp drag.
Identifier

mg74qm32g

Collection

Institution

Date Issued

1900 to 1909?


Genre

Topic(s)

Resource Type

Still Image


Analog Format

1 print : process print ;


Rights

Contact host institution for more information
For more information on copyright, please read our policies